Hall Of Fame 2017
David A. Dawson
Class of 1956
Dave graduated from Fort Hill High School in 1956 as a three-year letterman in football - including making the All-City team his senior year.  After graduating from Strayer College, he worked with the accounting firm, Councilor, Buchanan Mitchell, and subsequently with the American Personnel and Guidance Association and Urban America.  In 1970 Dave took a position with the fledgling non-profit Common Cause and through his audit work on the Committee to Re-Elect the President, played a pivotal role in unraveling the Watergate scandal.
Tired of the political spotlight, Dave became EVP of the National Trust for Historic Preservation and revolutionized the process of donor fundraising - leveraging the baseline analytics that evolved into the data management activities of such firms as Amazon and Google.
In 1978 the David Dawson Company was established.  Within five years, it was the second largest fundraising firm of its kind - with a special focus on environmental conservation and cultural organizations.  Upon closing the business in 2009, Dave served on the Johns Hopkins Presidential Strategic Planning Committee as well as the boards of the National Salvation Army, and Handgun Control, Inc.  He also served as a Patient Advocate for the National Cancer Institute.
Dave passed away on January 1, 2017 leaving behind his wife of 58 years (Marian), two sons, one daughter and eight grandchildren.  At his passing, Dave ended his reign as Johns Hopkins longest surviving metastatic prostate cancer patient - having had the disease for over 20 years.
Philip Heavner
Class of 1988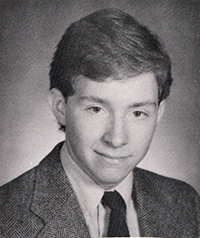 Philip graduated from Fort Hill in 1988. He attended Western Maryland College (now McDaniel College) in Westminster, Maryland from 1988 - 1992 receiving a B.A. magna cum laude with departmental honors in chemistry and biology. He was elected to Phi Beta Kappa, was a college scholar (completed the honors program) and received the H.P. Sturdivant award for the Biology Department at W.M.C.
He then attend the University of Virginia and received the Doctor of Medicine Degree in 1996. He did his internship and residency in pediatrics at the University of New Mexico in Albuquerque, completing the training in 1999.
Dr. Heavner was in private practice at BCA Medical Associates in Roswell, New Mexico from 1999 until 2005.  He and his family then relocated to Cooperstown, New York and he joined the staff at Mary Imogene Bassett Hospital as a general pediatrician. In 2006, Dr. Heavner was named Pediatrician-in-Chief of the Bassett Healthcare Network, the position he continues in today. He is an Assistant Professor of Clinical Pediatrics at the Columbia University College of Physicians and Surgeons, and is the Clerkship Director of the Longitudinal Clerkship in Pediatrics for the Columbia-Bassett Medical School Program.
The Department of Pediatrics at Bassett has the largest rural school-based health program in the United States.  Serving five counties and a geographic area the size of Connecticut, the program offers medical, dental, and mental health services on site in public schools across central New York.
Philip lives with his wife, Marielle Ainsworth, and children Nathan, Brendan, and Margaret near Cooperstown, New York. He is an avid Baltimore Orioles and Pittsburgh Steelers fan.
Dr. G. Overton Himmelwright
A native of Eckart Mines, Maryland, Dr. G. Overton Himmelwright served as physician to the Fort Hill High School football team from 1954 to 1977. In that capacity, he attended all practices and games, often treating players on the field. Dr.Himmelwright believed that timely diagnosis of injuries was key to a player's recovery and wrote a manual to that effect that was titled, Field Diagnosis in High School Athletic Injuries.
A graduate of Beall High School, the University of Maryland, and the University of Maryland Medical School, Dr.Himmelwright was a veteran and served in the U.S. Navy, earning the rank of Pharmacist's Mate, 3rd Class, during World War II. Dr.Himmelwright was also instrumental in starting the athletic trainer assistant program at Fort Hill High School.
A respected general and family physician, Dr.Himmelwright retired from medicine in 1987. He and his wife, Naomi, had two daughters, Bea (Fort Hill Class of 1972) and Georgia (Fort Hill Class of 1975). Dr.Himmelwright passed away in 2005.
Don and Wilma Lantz


Don and Wilma (Stafford) Lantz were high school sweethearts, who attend Fort Hill High School in the late 30s.  In 1941 they were married and started their family.  Don was called away to defend our country during WWII and served in the 6th division (1945-46) in Korea.
They had four daughters who graduated from Fort Hill.  When their daughter joined the band in 1962,  they started volunteering in the concession stands.  They continued working the stands long after their youngest daughter graduated in 1970. 
In 1976, Wilma began selling tickets at the Fort Hill football games and Don volunteered to collect them.  When other schools were playing, they would work the concession stands.
After football season was over, they worked the basketball games, wrestling matches, soccer games, and track meets. They continued working at Fort Hill for over twenty-five years.
In addition to working at Fort Hill, they volunteered at District 16 Volunteer Fire Department and at their church.
Due to failing health in 2011, Wilma had to be placed in Golden Living Center. Don and Wilma celebrated their 70th wedding anniversary in August 2011, with Wilma passing away in February of 2012. After Wilma passed, Don began volunteering at the nursing home, which he did for over five years.
Don is no longer able to volunteer, but he is still seen around town wearing his Fort Hill jacket and cap … a true Fort Hill fan.
Keith McDaniel
Class of 1976

Although Keith did not move to Cumberland until his sophomore year of high school, he was very lucky to be taken in by a wonderful group of friends and several outstanding teachers. He was especially attracted to science by teachers John Van Ackeren (chemistry) and William Leeson (physics) and moved on to study organic chemistry at Gettysburg College under the guidance of professor Alex Rowland. During college Keith again developed a strong network of friends, with whom he continues to share outdoor adventures such as canoeing, hiking and camping. After college Keith attended Princeton University and obtained a Ph.D. in 1985 in Organic Chemistry with Professor Ted Taylor, followed by post doctoral work with Professor Louis Hegedus at Colorado State University in Fort Collins. While studying at CSU, Keith met his wonderful wife Linda. They are the proud parents of two lovely daughters, Lianna and Adelle.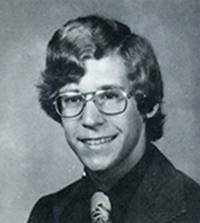 Keith got his first job in 1987 as a faculty member in the Department of Chemistry at Ohio University, where he taught classes ranging from 5 - 240 students and carried out a research program focused on the use of transition metals in organic synthesis. In 1998, Keith moved on to pharmaceutical company Abbott(since split off as AbbVie) where he currently serves as a Senior Principal Research Scientist and Senior Group Leader in the Oncology Discovery program. He is most proud of his contributions to the Antiviral Research program at AbbVie as the inventor of paritaprevir, an HCV protease inhibitor that is an ingredient in Viekira Pak and Technivie. These medications have treated over 100,000 patients infected with the hepatitis C virus. Keith is a co-author of over 30 peer-reviewed scientific journal publications, and is a co-inventor on more than 20 patents.