Hall Of Fame Write Up's
The Honorable George C. Eskin
Class of 1955

California Superior Court Judge George Castelle Eskin was Senior
Class President at FH in 1955. He was President of the Junior Town Meeting
League, Sports Editor of the Sentinel, and Best Actor in the One-Act
Play Tournament. He was the Maryland Voice of Democracy winner in
1954. Currently George is the public address announcer for UCSB women's
basketball team and previously hosted a classical music program on
KDB-FM. George has performed at the Rubicon Theater world premier of
"Murder in the First" and performed in its production of "Love Letters" with
his wife, State Senator Hannah-Beth Jackson.

George earned a Bachelor of Arts - UCLA Department of Theatrical
Arts in 1960 and Doctor of Jurisprudence - UCLA Law School in 1965.
George has won many awards including the Ventura County Criminal
Defense Bar Assoc. for outstanding contributions to the criminal justice system
in 1990, Criminal Defense Bar Assoc. Lifetime Achievement Award in
1997, Ventura County District Attorney Woodruff J. Deem Medal of Justice
in 2002, Anti-Defamation League Distinguished Community Service Award
in 2005, Santa Barbara Women Lawyers Foundation Founding Father in
2012, and Santa Barbara County Bar Assoc. John T. Rickard Judicial Service
Award in 2013.

George has served on the California Commission on Personal Privacy,
California Judicial Nominees Evaluation Commission, Executive Committee
of Santa Barbara Chapter of the Anti-Defamation League, Board of
Santa Barbara Jewish Federation, Girls Inc. of Greater Santa Barbara, and
the Santa Barbara's Shelter Services for Women.
George was the Assistant D.A. for Ventura and Santa Barbara Counties
and supervised the largest municipal prosecution agency in the U.S. as
the Chief Assistant City Attorney in Los Angeles. George was appointed by
Governor Gray Davis in 2003 to the California Superior Court.
Judge Eskin retired in October 2013. He has five grandchildren and
three children - Meredith Brace, Lucas Eskin, and Jennie Ekdahl.

CWO-4 James F. Combs
Class of 1963

Jim graduated in 1963 lettering in both Football & Track. He began his first career
during his senior year at Fort Hill by enlisting in the U. S. Naval Reserves. Serving
30 years, Jim advanced 8 enlisted pay grades in just 11 years. He then was selected for
the Navy Warrant Officer Program in 1974 advancing 3 pay grades in just 7 years to
CWO-4 the highest level which can be attained by a non-college graduate.

After returning from Vietnam, Jim began a second career as an electrician in
Local 307 IBEW in 1969. After finishing his apprenticeship in 1973 Jim became the first
member to pass an exam to become a Master Electrician. In 1980 Jim was elected by
the Local Union membership to the first of four terms as their full-time Business Manager.
In 1984 he became the youngest individual to receive the Davy J. Lewis Memorial
Award as the outstanding Labor Leader in Western Md. In 1991, Jim was asked by the
IBEW International Secretary-Treasurer to be an International Representative in the
Employee Benefits Department at the IBEW Headquarters in Washington, D. C. In
1998, Jim was appointed as Director of that Dept. and in 2004 he was appointed Senior
Executive Assistant to the IBEW International Secretary-Treasurer. The position he held
until his retirement in 2008. This is the highest staff position attainable within the IBEW.
During this time Jim made the commitment to further his education. First in 92-
94, Jim received the Certified Employee Benefits designation from the International
Foundation of Employee Benefits and the Wharton School of Business. He then began
college anew at University of Maryland University College from 93-98 completing 111
credits while maintaining a 3.892 GPA. Jim was inducted into 2 Honor Societies - Phi
Kappa Phi and Alpha Sigma Lambda.
Since his retirement Jim has been instrumental in establishing the Fort Hill
Scholarship Fund of which he currently is Chair. He also has been an active member of
the We Are Fort Hill committee.
Shannon Workman
Class of 1984

Shannon graduated from Fort Hill as co-valedictorian in 1984. She then accepted
a Congressional appointment to the United States Naval Academy, where she majored in
economics, graduated "With Distinction", number 56 out of 1060 graduates, and was
commissioned an ensign in the United States Navy in 1988. After attending flight school
in Pensacola, FL and Meridian, MS, Shannon earned her wings of gold as a naval aviator
on June 1, 1990. She became a Selectively Retained Graduate (SERGRAD) flight instructor,
instructing intermediate jet training in the T-2C Buckeye.

When the United States changed its laws on women in combat in 1993, she was
the first female pilot to qualify with day and night landings in a fleet airplane, the EA-6B
Prowler, on an aircraft carrier. After deploying overseas on the USS Eisenhower and
making over 100 arrested landings, she later flew the C-9B, a global transport plane, all
over the world, serving as aircraft commander and flight instructor. She has flown to six
of the seven continents and completed a "round the world" mission, leaving Whidbey Island,
WA, heading west and continuing to fly west until again reaching Whidbey Island,
stopping in various places such as Wake Island, Singapore, Diego Garcia, Qatar, Egypt,
Greece, England, and Iceland. Shannon attended the Naval Post Graduate School in
Monterey, CA, where she completed the Aviation Safety Officer course. She was promoted
to the rank of O-5, Commander, in the United States Navy and also Screened for
Command. She earned various naval awards, including a Navy Commendation Medal,
three Navy and Marine Corps Achievement Medals, a Navy Unit Commendation, Meritorious
Unit Commendation, and Southwest Asia Service Medal with Bronze Star.
Shannon left the active duty Navy in 1999, continuing to fly the DC-9 in the Naval
Reserves and going on to become a commercial airline pilot, flying the Boeing 737 for
United Airlines and then the Airbus 320 for JetBlue Airways, where she still works. Shannon
has qualified in nine different types of aircraft and has amassed over 9000 total flight
hours.
She lives in Leesburg, VA and has an 8-year old daughter, Michaela. Her parents,
Bill and Amy Workman, still live in Cumberland, MD. In her free time, Shannon likes to
explore the Pacific Northwest, where she lived for 13 years. She also enjoys hiking, bicycling,
reading, traveling, and spending time with friends and family.
Dr. Roseann Weber Hannon
Class of 1961

Roseann was born and raised in Cumberland, MD. She received
her B.S. in biology and psychology from Frostburg State College in 1965,
her M.S. from Penn State in 1967, and her Ph.D. in biological psychology
from the University of South Dakota in 1970.

She joined the faculty of the Psychology Department of the University
of the Pacific in Stockton, CA in 1970, and taught there for 40 years, retiring
in 2010. She especially enjoyed teaching students how the brain works
and how to do research, and her many publications and presentations at
professional meetings were always co-authored by students. Roseann is
also a clinical neuropsychologist and specializes in working with individuals
who have brain dysfunction due to head trauma, stroke, Alzheimer's disease,
etc. She is still active in her private practice.

Previous honors received include the Alumni Achievement Award
from Frostburg State College in 1981; and from University of the Pacific:
Faculty Research Award in 1992, Distinguished Faculty Award in 1999, and
Order of Pacific in 2010.

Roseann raised three stepchildren and a daughter, and is happy
that three of them are teachers (one elementary, one secondary, and one
university professor). She has enjoyed music throughout her life, and has
sung with the Stockton Chorale for nearly 30 years. She and her husband,
David Hall, enjoy spending time with family and friends, attending theatrical
events of many types, and traveling.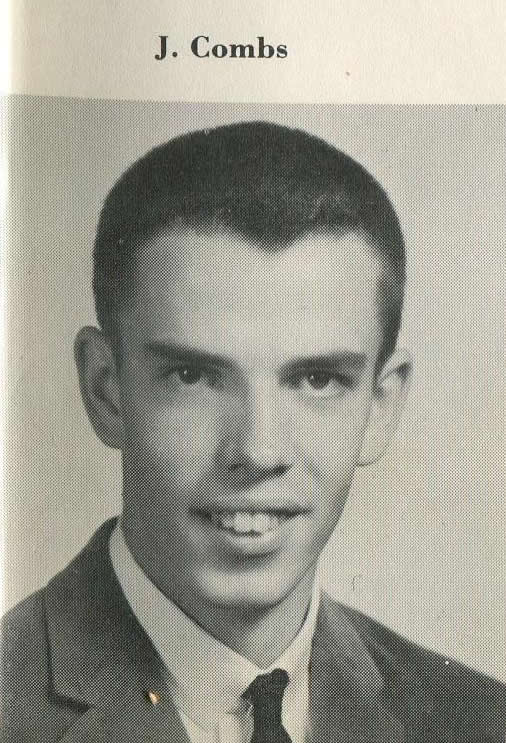 Dr. John A. Harden
Class of 1948


John Archie Harden was born in Philadelphia, Pennsylvania. He attended
and graduated from Fort Hill in 1948. He received an A.A. degree
from Frostburg State Teachers College in 1950, an R.B.A. from Shepherd
College in 1986, an M.S. from Southwest University (LA) in 1988, and a
Ph.D. from Southwestern University in 1990. His Masters is in Forensic Science
and his Ph.D. is in Criminal Justice.

He relocated back to Cumberland, MD in 1950, met his future wife,
Maryjane Robb Frye, through his sister who was a Public Health Nurse, married
"Mickey" (Allegany High School grad), within the month at Frostburg,
MD.
Dr. Harden served in the U.S. Air Force from 1951 - 1955 during the
Korean Conflict and rose to the rank of Staff Sergeant working with and instructing
atomic weapons.
Dr. Harden served in law enforcement in New Mexico in a variety of
roles and agencies, which included the Bureau of Indian Affairs as an Interagency
Special Police Officer.
He was a Federal Government employee from 1961 through retirement
in 1993. Among the agencies in which he served were the US Army
Interagency Communications Agency, the Office of Emergency Preparedness,
Federal Emergency Management Agency, Defense Communications
Agency, and the White House Military Office - all associated with cryptographic
systems.
Dr. Harden has received numerous awards for community service and
has been active in many fraternal/professional organizations.
Dr. Judy L. Twigg
Class of 1980

After graduating from Fort Hill in 1980, Judy Twigg got an undergraduate degree
in physics from Carngie Mellon University, a masters in Soviet Studies from the
University of Pittsburgh, and a PhD in Defense and Arms Control Studies from the
Massachusetts Institute of Technology. In 1992, she joined the faculty at Virginia
Commonwealth University in Richmond, VA, where she's been based ever since.

For the first part of her career, Twigg focused on technological issues related
to international security. She was one of the first Americans to gain access to some
of the Soviet Union's main military aircraft development facilities at the end of the
Cold War, and she testified as an expert witness for the U.S. Congress (House
Committee on Science) on Russia's contributions to the International Space Station.
In the late 1990s, she became interested in global health policy and began shifting
her focus in that direction. She is now co-chair of the US-Russia Civil Society Partnership
Program, director of the Eurasia Health Project of the Center for Strategic
and International Studies, and a Consultant for the World Bank, where she has
worked on global development efforts. For the Bank, she's traveled to Russia, Kyrgyzstan,
Macedonia, Lesotho, South Africa, and Thailand, and worked on projects
affecting dozens of countries in Latin America, Africa, and Asia.

At VCU, she teaches courses on international relations, international political
economy, Russian politics, and global health policy. She has edited three books,
published dozens of journal articles and research reports, and had almost a million
dollars in grant funding from various agencies, including the Carnegie Corporation of
New York and the Social Science Research Council. In 2005, she received the Distinguished
Faculty Award from the State Council on Higher Education in Virginia.

Twigg lives in Glen Allen, Virginia, with her husband, Bill Newman, and daughter, Jeri.

Glen R. Shipway
Class of 1961

Glen Richard Shipway, class of 1961, worked 45 years in the securities industry specializing in financial trading markets and industry regulation.

His career began as an auditor of brokerage firms for the National Association of Securities Dealers, the industry's self-regulatory agency. He moved to Interstate Securities, the largest brokerage in the Carolinas, rising to Executive VP and head of all trading of stocks, bonds and commodities, and to a seat on the Board of Directors.


Glen returned to the NASD in 1989, this time in New York City as Executive VP and head of trading and operations for the Nasdaq Stock Market. He finished his working career as CEO of Primex Trading – a partnership of Goldman Sachs, Merrill Lynch, Morgan Stanley, Smith Barney and Madoff Securities that developed an electronic auction market licensed to Nasdaq. Since his retirement in 2003, he was elected to the Board of the National Stock Exchange and  continues to act as a financial industry consultant and expert witness. In 2010, he embarked on a new career – a commercial cow/calf operation on farms owned and leased in Southwest Virginia.  

Notable events in his career included, while at NASD, spotting an anomaly in the stock prospectuses of similar issues that resulted in the fraud conviction of a DC stock promoter; when pursued further by the Justice Department, a series of investigations, plea bargains and convictions,  ultimately resulted in the resignation of the sitting Vice President of the United States. In an unrelated Justice Dept investigation of the Nasdaq market makers, his research into the market making process and subsequent testimony led in part to the separation of the NASD and Nasdaq. He also developed and patented the "market opening" process used by Nasdaq. In 2008, when the equity markets were in disarray, Glen, as a private citizen, wrote to the SEC and urged them to curb short selling and proposed a solution. His proposal was eventually adopted as the short sale rule.

His work was not always so "white collar" though - during college summers he dug sewer lines and repaired the Wiley Ford bridge for Hout Construction and cleared gas pipeline rights of way in Pennsylvania. His first professional job was as a production supervisor for DuPont. In 1967, he volunteered for the US Army, and is a Vietnam War veteran.

Glen earned a Maryland senatorial scholarship to Washington College, where he majored in mathematics and played basketball, baseball and soccer. As a junior he was inducted into Omicron Delta Kappa national honor society. He later served his college as a member of the Board of Governors. He has served on various finance committees of the town of Southbury CT and was elected to the Connecticut District 15 Board of Education.

Glen and his wife, Barbara Austin of Canton, Ohio reside in Kiawah Island, South Carolina. His son John, daughter-in-law Tammy and grandsons Connor and Pierce live near Raleigh, North Carolina.


Dr. Walter L. Henry
Class of 1959

After graduating from Fort Hill in 1959, Walter L. Henry attended and graduated
from the University of Pittsburgh with a Bachelor of Science Degree in Electrical
Engineering in 1963 and Stanford University with a Doctor of Medicine Degree
in 1969.

After an internship and first year medical residency at Albert Einstein College
of Medicine in Bronx, New York, he spent eight years at the National Heart, Lung
and Blood Institute in Bethesda, Maryland. While there, he worked with an engineer
to custom design and build the first practical two-dimensional echocardiography
imaging device. As a result of this and other work at the NIH, Walter was
asked by NASA to study the last Sky Lab crew and the US crew of the Apollo-
Soyuz joint mission. This involved performing echocardiograms to image the
hearts of both crews preflight at the Johnson Space Center in Texas as well as on
the US recovery carriers post flight. Walter left the NIH in 1978 to accept the positions
of Professor of Medicine and Chief of the Division of Cardiology at the University
of California, Irvine (UCI) in Orange County, California. During this time at UCI,
he continued to develop cardiac imaging technologies. In 1989, Walter accepted
the positions of Vice Chancellor of Health Sciences and Dean of the School of
Medicine at UCI.

Walter received several academic honors during his career including Fulbright
Professorship in an American College of Cardiology Circuit Course in South
America (Brazil and Argentina), American College of Cardiology Circuit Course in
India and Sri Lanka, National Academy of Science study course in Egypt and the
Distinguished Alumnus Award of the University of Pittsburgh. Among other honors
and activities, he was President of Opera Pacific, a member of the National Academies
of Science President's Circle and was elected to Who's Who in America.
Walter has been married for 25 years to Maria del Carmen Calvo, a very successful
artist who was born and raised in Leon, Spain.
Dr. Terri Ott Lally
Class of 1976

After graduating from Fort Hill in the Class of 1976, Terri
completed a B.A. at Johns Hopkins in 1981. Her M.D. was
earned at Cornell University in 1987. At Cornell, Terri received
the Janet Glasgow Award, which is presented to women who
graduate in the top 10% of the class. She completed her internship
and residency in Pediatrics at the Yale-New Haven Hospital
in 1990.

Terri has since practiced pediatrics in Dover, NH and is
Chief, Department of Pediatrics, Wentworth-Douglass Hospital.
In 2006, she received the Selma Deitch Award, given by the NH
Department of Children and Youth Services for sixteen years of
service in volunteering to provide medical evaluation and care to
children who have been physically or sexually abused. The
award is selected by the social workers in the field and presented
for "excellence in care". In 2009 Terri was honored as a NH "Top
Doc", which is peer-selected and given to less than 5% of all doctors.
For this award, other physicians are asked, "Who do you
want to take care of your loved ones?" Since 2005 Terri has taken
an annual trip to Haiti to volunteer at the Haitian Health Foundation,
a medical outreach in rural Jeremie, Haiti.
The Honorable J. Frederick Sharer
Class of 1956
At Fort Hill, Fred was vice-president of his class and sports editor of
the Sentinel. He graduated from Washington & Jefferson College in 1960
with a degree in economics. At W & J he served as an officer of his fraternity
and editor of the college newspaper. In 1960, he and Carolyn
were married and he began his studies at the University of Maryland
School of Law, graduating in 1963. At law school, he was a class officer
and member of the Editorial Board of the Maryland Law Review.
Fred began his law practice in Cumberland in 1963 which, in the
years to follow, included service as Deputy State's Attorney for Allegany
County and attorney for the City of Cumberland. In 1980, he was appointed
to the Circuit Court for Allegany County, where he served until his appointment
to the Maryland Court of Special Appeals - Maryland's primary
appellate court in 2001. During his tenure in the Maryland judiciary, he
served as Chair of the Executive Committee of the Maryland Judicial Conference
and chair of the Jury Reform Commission. Although retired,
Judge Sharer continues to serve in senior status with the Court of Special
Appeals.
Fred and Carolyn are the parents of Jennifer Anne Salkin and Andrew
D. Sharer, and grandparents to six. Long active in community activities,
Judge Sharer has served as Chair of the Board of Trustees of Allegany
College, a member of the College Foundation, a Trustee of the
Community Foundation, president of the Cumberland Jaycees, and was
the founder of the County Task Force on Child Abuse and Neglect.